How to order prints of British bird illustrations from wood engravings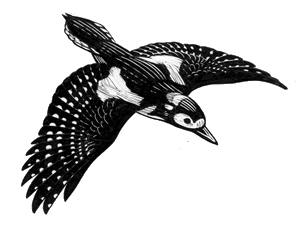 About the bird prints
I will do my best to send out prints as quickly as possible. However, as each one is hand printed, I can't always promise an immediate delivery. If I anticipate that the delay will be longer than two weeks, I will inform you at the time of ordering.
To order prints, please send an email to info@littlebrownbirds.co.uk, specifying the title (name of bird) and the quantity you would like. Include your full postal address and phone number. I will confirm your order by email.
You may also order by calling 028 9146 3030 (please leave a message and I will return your call).
Payment and Delivery
Feather Report prints cost £35 each. The prices of other prints appear below the images. All prints are sold unframed.
All orders up to £50 include postage and packaging for standard Royal Mail first-class delivery. If you wish to insure the contents, please add £10, as explained above right.
For all orders over £50, please add a single fee of £10 to the total price to cover postage and packaging. I have chosen this method because it insures the contents (it also guarantees next-day delivery).
Send a cheque for the full amount (including postage, if necessary) made payable to Peter Brown to the contact address below.
If you are ordering from overseas, please send me an email or call so we can discuss postage and packaging.
If you are not happy with your print, you can return it for a full refund.
Contact
Peter Brown, 39 Donaghadee Road, Bangor, BT20 4QY, Northern Ireland Telephone: 028 9146 3030.
Email: info@littlebrownbirds.co.uk